PROFILE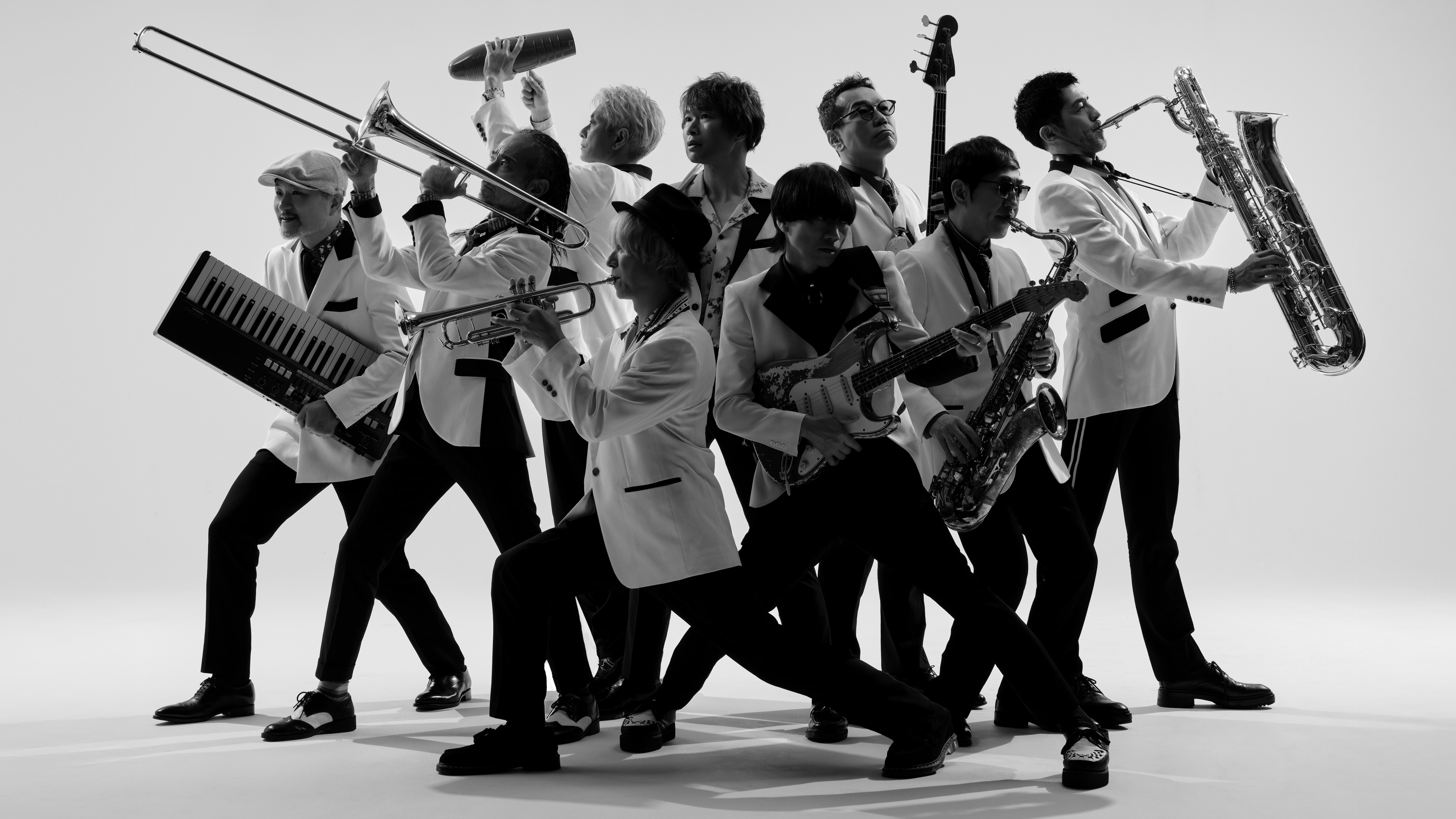 ジャマイカ生まれのスカという音楽をベースに、あらゆるジャンルの音楽を独自の解釈で飲み込み、自ら奏でるサウンドは"トーキョースカ"と称してオリジナルのスタイルを築き上げた日本が世界に誇るスカバンド。
1989年、アルバム『東京スカパラダイスオーケストラ』(通称"黄色いアナログ")でデビュー。幾度となるメンバーチェンジを乗り越え、現在のメンバーは9人。
インストゥルメンタルバンドとしての確固たる地位を築くなか、 2001年からはメンバーによる作曲、谷中敦(Baritone sax)による作詞でゲストボーカルを迎え入れる"歌モノ"に挑戦。 田島貴男、チバユウスケ、奥田民生を迎え、日本の音楽シーンに衝撃をもたらした"歌モノ"シングル3部作はヒットし、2002年リリースのアルバム「Stompin' On DOWN BEAT ALLEY」はヒットチャートで1位を獲得。50万枚の大ヒットを記録する結果となった。以降も甲本ヒロト、Ken Yokoyama、宮本浩次、桜井和寿など数多くのボーカリストを迎え入れるなか、10-FEET、MONGOL800、ASIAN KUNG-FU GENERATIONとはバンドコラボ3部作に挑むなど、センセーショナルなコラボレーションが常に話題となっている。
デビュー以来、国内に留まることなく世界31ヵ国での公演を果たし、グラストンベリー(イギリス)、ユーロキーンズ(フランス)、モントルー・ジャズ・フェスティバル(スイス)、ヴィヴェ・ラティーノ(メキシコ)、ロラパルーザ・チリ(チリ)など世界最大級の音楽フェスにも多数出演。なかでも、2013年のコーチェラ(アメリカ)では日本人アーティストとして初のメインステージに立つ快挙を成し遂げている。
さらに、2019年10月にはメキシコ最大の音楽アワード『ラス・ルナス・デル・アウディトリオ』で、長年に渡ってメキシコの人々を熱狂させてきたライブパフォーマンスが認められ、オルタナティブ部門でベストパフォーマンス賞を受賞。
デビュー34年目の新たなフェーズへと進んだ今も尚、バンドのテーマである"NO BORDER"を掲げ、音楽シーンの最前線を走り続けながらトーキョースカの楽園を広げ続けている。




TOKYO SKA PARADISE ORCHESTRA

Based on Jamaican-born ska music, Tokyo Ska Paradise, Japan's ska pride to the world, takes in all sorts of music with unique interpretations and has established their own style of sound that they call "Tokyo Ska".

The band made their debut in 1989 with their eponymous album (so-called "the yellow vinyl"). After going through a number of personnel changes, the current lineup consists of nine members.

As they solidify their status as an instrumental band, the band has also taken on the challenge of doing "songs" since 2001, with music written by the members and lyrics written by baritone saxophonist Atsushi Yanaka, bringing in guest vocalists. The "song" single trilogy, featuring Takao Tajima, Yusuke Chiba, and Tamio Okuda respectively, made an impact on the Japanese music scene and resulted in their 2002 album "Stompin' On DOWN BEAT ALLEY", which marked #1 on the hit chart and became a smash hit selling 500,000 copies.

Ever since, they have always created buzz with their sensational collaboration projects with a string of vocalists such as Hiroto Komoto, Ken Yokoyama, Hiroji Miyamoto, and Kazutoshi Sakurai to name a few, as well as the challenge of another trilogy with bands namely 10-FEET, MONGOL800, and ASIAN KUNG-FU GENERATION.

The band has always made the world their stage; they have performed in 31 countries to date, and have performed at numerous major music festivals including Glastonbury (UK), Eurockéennes (France), Montreux Jazz Festival (Switzerland), Vive Latino (Mexico), and Lollapalooza Chile (Chile). In 2013, they became the first Japanese artists to take the main stage of Coachella Festival (USA).

Furthermore in October 2019, the band won the Espéctaculo Alternativo category of Las Lunas del Auditorio, the biggest music awards in Mexico, for their live performances in the said country that had fanaticized the local people over the year.

And now, racing through their 34th debut anniversary year, Tokyo Ska Paradise continues to expand the paradise of "Tokyo Ska" under the mantra of "NO BORDER" and running the forefront of the music scene.